We are not trying to adhere to any labels. Our wine list constantly evolves, researching the best possible time of release with respect and praise to the land and producer.
About Us
Babyface Kitchen is a passion project. We are constantly learning, sharing and curating experiences every week. We grow and connect with our suppliers, staff and fellow industry professionals all the time. We are successful and content in what we do because we are truly passionate about our restaurant and what it stands for, we truly care about our customer experiences.
Menu
Designed to be creative, seasonal and most of all super tasty and interesting. We'll be delivering the highest quality of produce from around Australia, focusing on small farms and small batch producers, sustainable seafood and meat suppliers.
Learn More
Bookings
Reservations for babyface are highly recommended, to book in your party – use the link below
Learn More
Testimonials
"The DNA is strong, with distinct, satisfying, wine-friendly flavours from direct cooking methods such as grilling and charring, and recurring themes of smoke, umami, butter and pastry."
SMH Good Food Guide Chef's Hat Recipient 2023
We are humbled to announce that we have obtained a Chef's Hat in the  SMH 2023 Good food guide . This victory illustrates the effort and hard work our team have dedicated to our restaurant over the last six years and is a celebration of the journey we have taken to reach this point in our restaurant story.  We cannot thank the local community enough for the support we have been shown.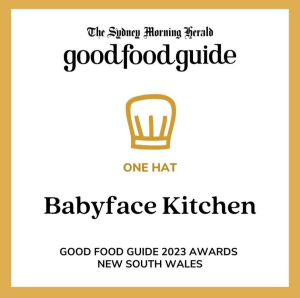 Gift Vouchers
Give the gift of great dining and let us take care of the rest! Purchase your instant e-vouchers here.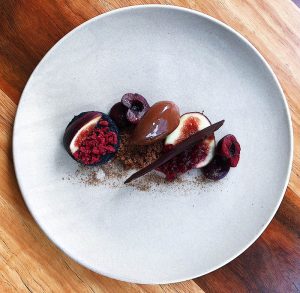 Learn More
Halfway Sourced
Thursday's & Friday's from 5pm-7pm
Saturday's from 5-6pm
We source some amazing products here at Babyface, and we want to showcase them to you for
Wollongong's best happy hour. 
Join in and enjoy great drinks and creative snacks for an end of week 'refresher'!
Bookings Available online or just walk in – Menu is listed below.